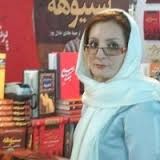 Roya Delkhosh, Visual Artist
Artists are very influential people in a community. Sometimes people learn maximum through what artists and media bring to them, because of the element of entertainment in that. People do admire what is a good looking art piece, a painting, picture, a sculpture, or a good drama, cinema or music. With the myriad range of medium in the digital world, a range of expression by art gets wider. Therefore, artists have a huge opportunity to influence masses for some positive thoughts and actions towards the environment and community.
Mostly, the artists are inspired by nature, the universe or the immediate surroundings. On the other hand, mankind continues to exploit and destroy nature for his own benefits without looking at the long term impact. Today, we are at a point where we are already witnessing the much-done damage to the environment. So this is important that artists demonstrate the preservation of life and nature. They show the beauty and the importance of nature to preserve all living species.  
This is true that an artist can express what he/she observes and feels more about- in some part of the world, water scarcity is a bigger issue while in other it is air pollution. There are places of deforestation and endangered species, while at the other human lives are themselves at peril. But artists have this big opportunity and privilege to showcase these issues and share them with their community and make people not just aware, but inspire them to take some positive actions. Artists should also be promoted by the authorities and community leaders to leverage their work crossing the borders. Showcasing at global levels make the world connect and understand the issues and impact at a massive level
Art is being promoted at many places now. Mostly art is being used for decoration, restoration. As for paintings beyond the acrylic medium or oil colors, there are some organic colors made of stone or plants. These are completely non-toxic and have no bad impact on nature. People can use organic mix media which is very delightful to watch.