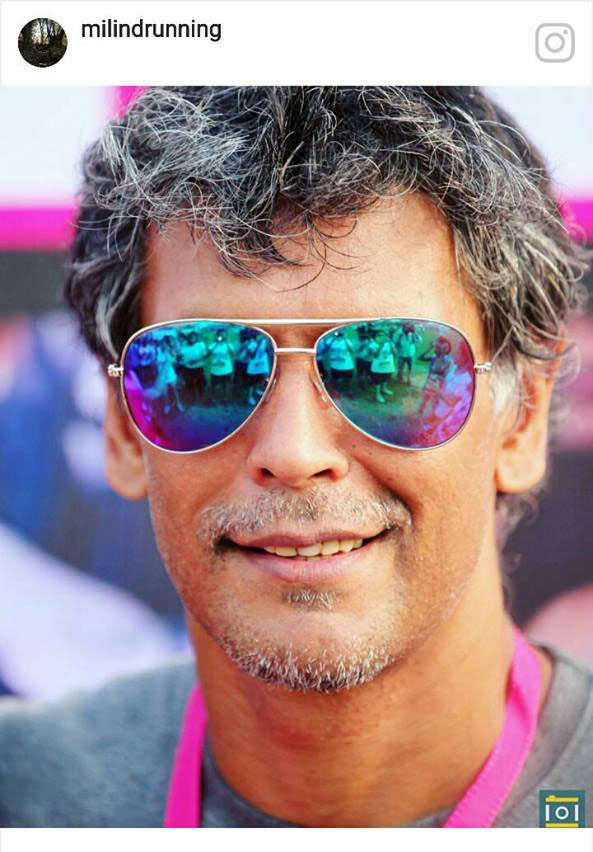 Brand ambassadors are always sought to influence masses. The real heroism is through real action and the real good that one does! But how many celebs do that? There is one such heartthrob, the "Made in India" Supermodel and Actor, who continues to be the sensation with his reincarnation as a tri-athlete, and the charm of "doing good."
Anju discusses with the IRON MAN, ULTRA MAN…Milind SOMAN, the "Cause Ambassador" for many sustainability endeavors -Environment awareness, Community welfare & the Healthier you.
Anju: Being the IRON-MAN and the ULTRA-man running marathons, you have contributed big time to creating a positive culture of fitness. I believe sports are a great way to create healthier minds, channelizing energies and emotions to create better societies. Your thoughts?

Milind Soman: Culturally, in many countries, people don't pay attention to their health. The need to make an effort to take care of your health is a recent phenomenon. In India, we did not have a culture of exercise or health and fitness. Even in the US, which is seen to be one of the most powerful and progressive countries, statistics show 60% people are overweight. Globally, now people are becoming more aware of the importance of healthy lifestyles in fighting physical and mental disease. But then the change in culture can't happen overnight.

In the US, endurance running started in the early 1970s and now 30 million people or 10% of the population run regularly, at least once a week. Things like that are also picking up in India. There are also Gyms and activity centers in the urban landscapes, but these are more like spaces where people can go and "experience."
I believe people should be clear in their goals. Whether it's losing weight or looking good, exercise and lifestyle must be designed to suit that goal. But once that goal is reached, the best kind of lifestyle is not guided by exercise but just by being active. Focus on sitting as little as possible. The sport itself, and more importantly endurance sport is important to help you understand yourself better- focusing on your strengths, working on your weaknesses and celebrating yourself! That leads to a healthy and fit mind, and that leads to a healthy and fit body.
The body itself makes the right choices all the time and that is why we are surviving with all the right functions. The mind often is not able to make right choices for a variety of reasons. It is quite vulnerable and is an easy victim for negative thoughts.
Forget the crimes or extremes of an anti-social person, I feel 99% people have unhealthy minds. The root of all social problems is of "individual" origin. If everybody focuses on making right choices for themselves, or think positively; society will be a much better place. If you become the best version of yourself, society will be better. If everybody just did the best that they were capable of, honestly and sincerely; then we would see the best version of our society.
Anju: Do you go to Gyms, or are you an outdoor person? What are the sports that you do and how do you feel about it, or being the Fitness icon?
Milind Soman: I don't exercise or go to the Gym. My fitness and health are products of being active and making right food choices. I have represented Maharashtra in swimming for 14 years since the age of 9. Through 1976 till 1988, I used to train for competitive swimming i.e. between 6 and 12 Kms a day. I was always fit. People probably have noticed it now! I have completed the Ironman triathlon in 2015 and the Ultraman in 2017. I like to run or swim as often as I can, which turns out to be 3-4 times a week.
I keep exploring my mind and body. I had my first session of Mallakhamba recently. I have started a little bit of yoga- Chakrasan and Sheershasan. I started sitting on the ground again instead of chairs. I run 42 km marathons barefoot.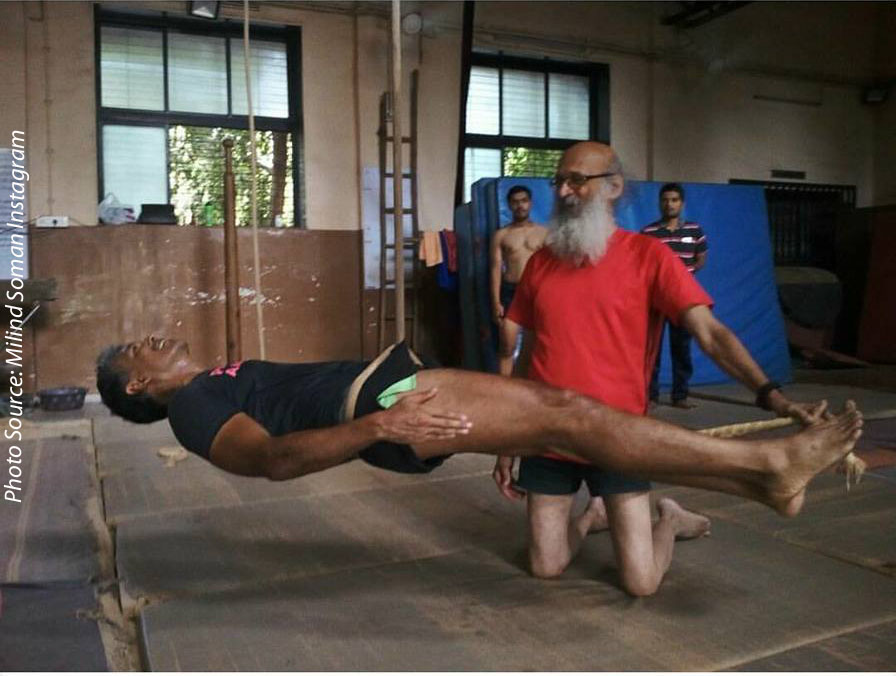 I really give importance to RIGHT FOOD and SITTING LESS. Sitting less is also being taken up by corporates across the world, by creating standing workstations and variable height work stations in many offices.  They know that people who sit for many hours a day are inviting illnesses. The body is capable of taking care of itself, maintaining weight, temperature, hormone balance and all other normal parameters of body function if it is kept in good shape. Otherwise, the body begins to lose natural function and immunity is one of the most important functions.
About running marathons, I feel it's anything special. What is special is about how running a marathon makes you feel. The best part is, anyone can run a marathon. There are millions of people who run marathons. Around 50,000 people in the world complete Ironman every year. The Ironman challenge is really popular and held in more than 40 cities across the world. The oldest person to complete the Ironman is more than 80 years old.
To direct the real power and potential of the body, the mind needs to be made strong through discipline and positive thinking.
The Ultraman has 3 times more distance than Ironman. You can imagine the degree of difficulty. Still, in the Ultraman competition in Florida this year, there was a 67 year old person with one leg who participated and finished! It is all about overcoming the mental weakness. Your mind is the weakest part of you. To direct the real power and potential of the body, the mind needs to be made strong through discipline and positive thinking
.
The body has huge potential if the mind directs it well. But most people's minds lack discipline and focus!
Anju: Tell more about Pinkathons. How much is the reach in smaller towns of India with any of these campaigns that you do or the sports and fitness culture?
Milind Soman: Pinkathon is an "only for women" run which I started in 2012. Through Pinkathons, we encourage women to take out time for themselves, even it is 15, 10 or 5 minutes a day. It is "me" time to understand about them physically, mentally, emotionally and even spiritually. Unlike the other marathons such as running for underprivileged people or awareness of social issues, here the cause is "you"– you are here to celebrate yourself and your first step towards a healthy future.
Pinkathon is in 8 cities, and in the last year, we had 70,000 women participating. These are women who have never run before or participated in a similar kind of event!  This is the first step. They have begun to realize that anybody can run whatever background they have, or whatever clothes they are comfortable with or whatever age. There is no guilt about taking time for themselves, away from the family. More than a run, the Pinkathon is a community activity, geared towards women's empowerment through sport.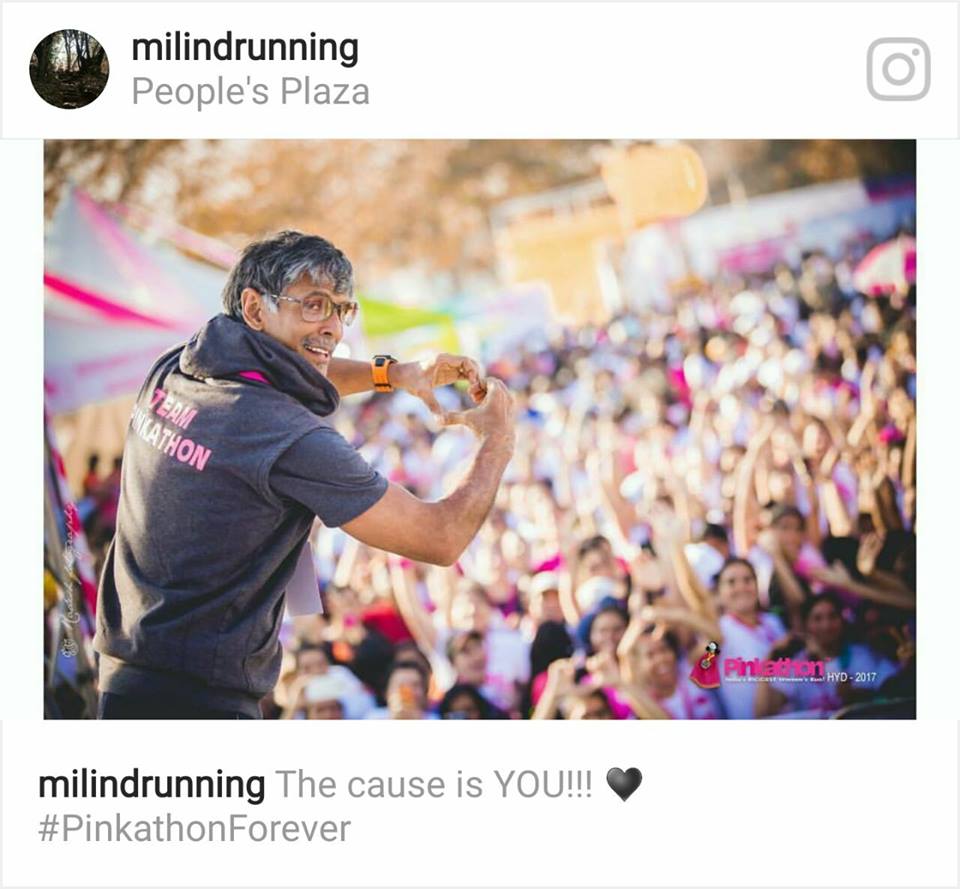 In the US also, initially, marathons were considered only for men. The Boston Marathon has been held for over 100 years but it was only 45 years ago, when Katherine Switzer, ran for the first time in 1970 that women began to participate. Now there are many only women marathons being held and women have taken up endurance running in a big way. Today, up to the half marathon i.e. 21 km distance, 60% of the participants are women.
Pinkathon is an "only for women" run where the cause is "you"– you are here to celebrate yourself and your first step towards a healthy future.
This has not been a Government initiative. It has just been about people inspiring each other by examples. In rural areas, I believe the thoughts will trickle down. There has already been a big change just in the last few years. There are now running events being taken up by schools, colleges, corporates, social clubs and even political parties. Cultural change has begun.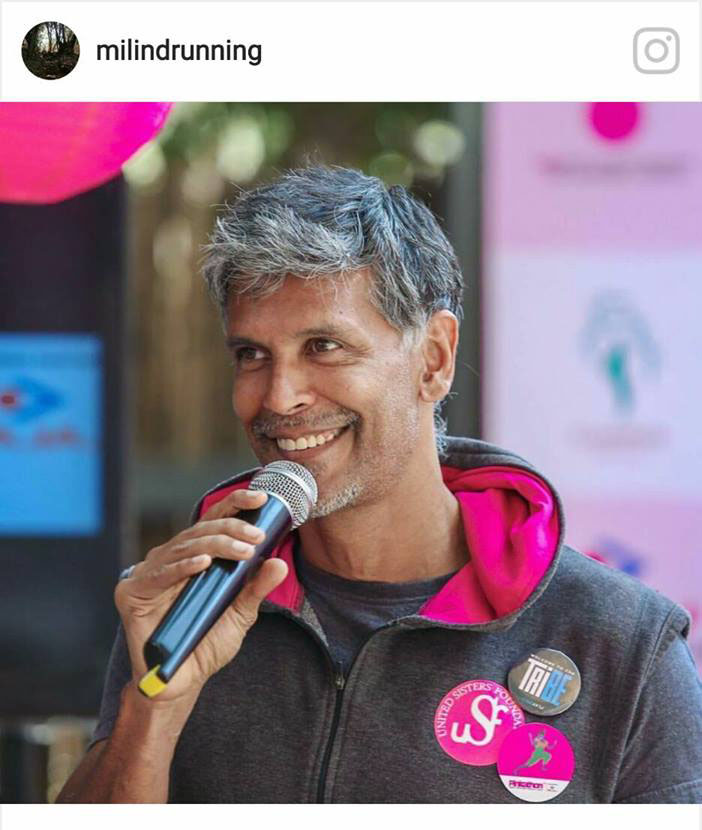 Anju: In your opinion what are the pertinent issues as regards sustainability (environment/ economic/ social) especially in the Indian context?

Milind Soman: The key is always political will. We all know what is to be done.  It's not very complicated. It just needs a leadership to channelize and prioritize. Whether it is environmental or any other social context, it would happen eventually and gradually.
Also, if everybody does "good" in their own space, we would overcome a lot of issues. We have seen people who try to do good for others, but they are not taking care of themselves or their families. The idea of underprivileged is so misunderstood.  Children of the richest people may be suffering the most because their parents are not inspiring. We are the only mammal on Earth, in urban areas especially, who do not inspire our children by example. We don't see the need to inspire them by being good examples, the best versions of ourselves. We send them off to school to learn and be productive, but we don't make the effort to be the kind of people that our children could emulate. Before we go out to work in slums or rural areas, we could rather work in our own families. That should be the priority. You have got to be "best version" of yourself. You have to focus on yourself first!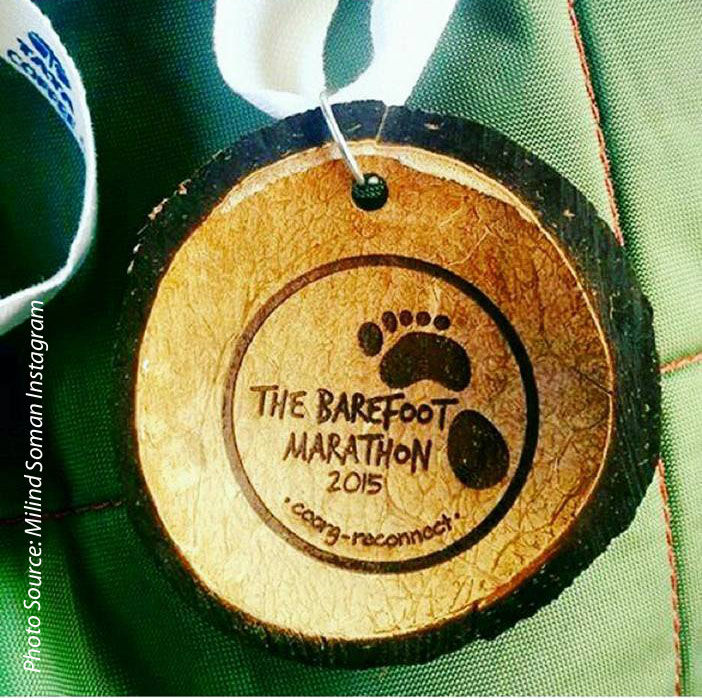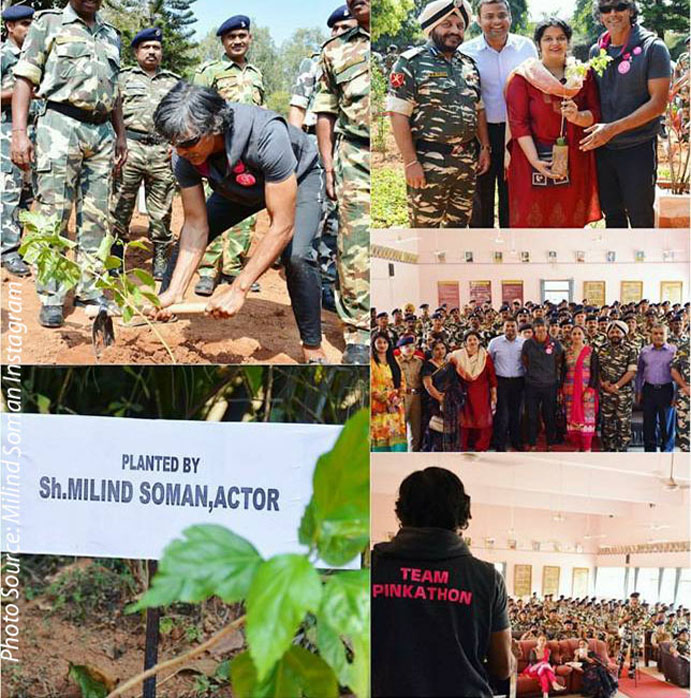 Anju: There are enormous causes to support. Engaging with many would rather not be a deeper connection. How do you get drawn to a cause, feel connected, motivated or choose preferred engagement to associate with? For instance, your association with MSSI or the awareness builds through greenathons.
Milind Soman: My association with MSSI is primarily because of Sheela Chitnis, the head, and chairperson of Multiple Sclerosis Society of India. She is so inspiring herself. I just felt that I should help her in whatever way I can. So whatever and whenever I can do, I try to do that. It is very little. It is not a lot.
Greenathon was organized by NDTV to create awareness about environmental issues. It was a series of long runs starting with a distance of 60 Km in 2009, 100 Km in 2010, a 550 Km run from Ahmedabad to Mumbai in 2011 and later 1500 Km from Delhi to Mumbai in 2012. During those runs, every day we used to give tips to people to lead eco-friendly lifestyles.
In terms of other eco-friendly events, there is a Barefoot Marathon in Coorg in Karnataka. It is the only run in the world, where there is no use of electricity or plastic.
In my own life- I don't use many gadgets. I don't wear shoes. Barefeet is something natural; we have been living barefoot for millions of years. Only in last 100-150 years, we started wearing shoes.
Anju: Sometimes when a commercial is highly creative, we remember everything about it, but the product! :). This is true sometimes even for celebrity endorsements because of their awe! Your views/ experience?
Milind Soman: I would agree to it. The product, objective or message often gets completely lost. I have not seen celebrity endorsements working very well, especially when the celebrities are used based only on their face value! I learned that the "Amitabh Bachchan Polio campaign" has apparently worked very well. But these kinds of examples are very rare. In my opinion, the face of a celebrity does not work so well compared to real people when we talk about a cause.

Social campaigns are more effective and memorable when they are community driven rather than celebrity driven!
I prefer to see real people come out- friends, neighbors, common people, with whom everyone can relate to. For me, community members make the real difference! For instance, in the "Pinkathons" now we have thousands of women running. They have created their small community groups. In all these, I have kept myself completely in the background. I don't appear on any advertisements or hoardings. I just go for the main event or the press conference.
(Anju: Reminds me of the steamy ad of you and Madhu Sapre with a python around, but did not remember the product or brand until I googled again :))
Milind: Yes, a lot of people remember it for the photograph. I would say it's not me or Madhu, but the nature of the picture was so unusual for its time or even now, that people do not remember anything else.
Anju: People today are savvier, and they understand if there is a celeb endorsement for a good cause; there is, of course, a positive image advantage that they get too! Especially when there are a lot of newbies doing it, gives a sense of vanity. Your thoughts?
Milind Soman: This is something to be thought by the people who are working for the cause. You can't blame an actor or someone famous for that. It will be equally ridiculous that a person has to decline to be part of any good cause because he or she is famous! But how the fame is to be used is something that the strategists can look at. They should be creative to tap the potential! 
I know so many actors who are doing such good work. We don't even hear about it because they don't put their face out there saying I am doing it, so you do it. It is about leading by example!
People have recognized me as a fit person or a fitness icon. It's not because I tell them that they should "run". I just run and people watch, and sometimes follow. They find their own path. For fitness goals, I don't go and tell people what is to be done, even when they ask for tips or advice. It is one of my rules, to never give advice. Because the whole idea of endurance sport is about gradual self-exploration- physically, mentally, emotionally and spiritually, especially as you age.