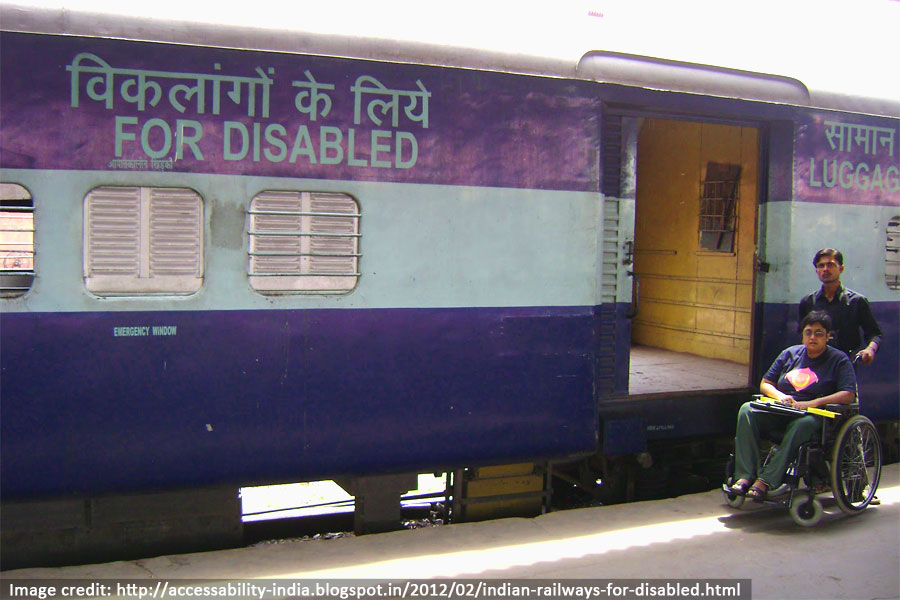 A disabled person can live without any restraint if the environment is accessible enough for them for a comfortable living. In India with about 20 million of disabled population, we may be at the brink of being disabled friendly country, but glad that there are some propelling campaigns such as Accessible India.
A country can be called disabled friendly if all public areas like parking, residential areas, transport, tourist destinations, educational institutions are accessible and barrier free. Specially abled people may rather be independent and lead a more quality life needing less assistance at every step for their routine or important tasks.
We bring about some insights in terms of Accessible India:
Transportation
Our airports are disabled friendly, the buildings as well as the staff who are specially instructed to extend help for disabled passengers. Passenger can contact the airport himself/herself before the travel date if need any assistance during boarding. In case there is a patient, the help is extended to cut the long channels of wait, queues etc.
The Railways needed a great reform which is used by the majority Indians to travel. The Govt. is planning to transform around 500 railway stations as disabled friendly. Railway tickets can be booked online. Concession to the disabled is given on the basis of identity cards with specific numbers. Under a new scheme, special reservation counters and coaches will also be installed in future.
Metro
Delhi Metro is one of the most disabled friendly public transport systems in India and all stations have ramps from the streets so that wheelchair-bound persons can directly roll up to the lifts.The control panels are placed at a low level inside all the lifts so that persons on wheelchairs can access them conveniently. Besides, there are buttons with inscriptions in Braille for the visually challenged people.
Tiles with tactile markings have been provided outside the lifts so that they can follow these to go directly from the ground level to the trains. Inside the trains, special spots have been earmarked for wheelchairs.
Tourist destinations
India is progressing towards accessibility, trying best to remove the deficiencies and making the tourist spots more convenient for the specially abled travellers. These tourist spots are considered disabled friendly due to facilities like wheelchair access, braille signs, maps, special toilets etc. Below are some of the top rated disabled friendly travel destinations
Tipu sultan summer palace, Bengaluru
Sanchi Stupa, Bhopal
Taj Mahal, Agra
Fatehpur Sikri
Lakshmana temple, Chhattisgarh
Other tourist spots like Belur, Halebidu, Chitradurga Fort and Shravanabelagola are next in line to make the changes. The Karnataka state government has identified about hundred buildings to undergo accessibility reform.
Tithal beach located in Gujarat is going to become India's first disabled friendly beach. From disabled friendly food courts to accessible wash rooms, the beach will become completely disabled friendly in near future.
Most of the Indian Government buildings are accessible with wide and clear pathways, ramps for the wheelchair bound people. Colleges and educational Institutes, however, need to become more disabled friendly. IIM-B is considered the best disabled friendly institute in the country by 'Javed Abidi, Honorary Director, National Centre for Promotion of Employment for Disabled People (NCPEDP). Jawaharlal Nehru University is among the first university to have set up a Disability unit or equal opportunities office. They have installed Braille signs at school library and toilets with wide entry and also planning to build wide doors, e learning facilities for the visual impairments students.
The advancements in this area are heartening. Below is Isn't great to know that we are building a culture of accessibility in the country, providing ample opportunity to our disabled friends to live a normal life with their needs.
General
Accessible bathrooms with proper space inside the bathroom, clean and higher toilets, low sinks.
Accessible coaches for the disabled in all trains, ideally one for each class.
Pathways, ramps at public places
Designated parking
Enlarging doorways and hallways to accommodate wheelchairs
Visually Impaired
Braille sign boards
visual fire alarms
Tactile signages
Speech Hearing Impaired
Assistive listening systems and devices, Qualified interpreters, Open and closed captions, Telecommunication devices for the deaf (TDDs)
Besides, there must also be sensitive culture towards empathizing with those who are physically challenged or specially abled with more sensitivity for women